There is a better way to work!
Book a HubSpot demo with our sector-specialists to see how you can:
🚀 Engage with your prospects more effectively
🚀 Save time with highly streamlined processes
🚀 Personalise and automate your communications
🚀 Stand out from the crowd
We are Diamond HubSpot Solutions Partners. Our Consultants are experts in implementing and using HubSpot in schools, colleges, universities, and non-profits.
In order to get the most out of your HubSpot demo, we invite you to first have a brief exploratory call with one of our specialists. This means we can tailor the demo to your needs and show you how HubSpot could work to help you reach your goals.
Book your exploratory call using the calendar on this page, if you have any questions or problems with booking you can email hello@hubgem.co.uk
Following your Exploratory call we will schedule your demo at a time that works for you and your team. We will advise you on who should attend and you can let us know what you would like to get from the demo.
Your HubSpot demo will include:
Advice on using HubSpot to implement an inbound marketing and admissions or sales strategy
An introduction to HubSpot functionality and how you can use it to transform your marketing, admissions, and

sales efforts.

An overview of the HubSpot tools with sector-specific examples

An overview of costs

Advice on implementation and how to prepare for your new CRM
Chloe Snedden - Senior Business Development Consultant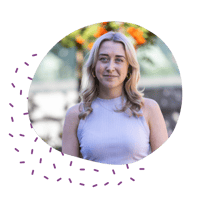 Sophie Frater - Senior Business Development Consultant